How Many Units are Available in AutoCAD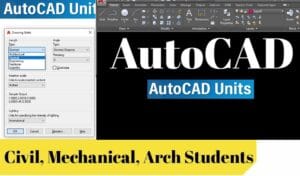 In this post, We Will learn about How Many Units are Available in AutoCAD.You can adjust unit types and accuracy using the AutoCAD Draw Units dialog, which is what you will be using on your drawings.
The Drawing Units dialog can also be used to set precision for linear and angular units. You can see in the Drawing Units dialog that there are five different types of linear units to choose from, with Decimal being the default.
To change the direction of the angular measurements, use the clockwise box under the Angles section in the Drawing Units dialog box.
The accuracy of displaying an angular measure can easily be changed from the Forms dialog boxes Units Control.
During drawing configuration, choose settings for Length units (for measuring linear objects and distances) and Angle units (for measuring angles between non-parallel objects or points on an arc or a circle) from the Units Draw dialog.
The Drawing Units that you choose will be used when measuring lengths and areas in your drawings. Our scale tool opens up our Draw Size dialog,
where you can easily set the units for drawing in inches, feet, meters, millimeters, or architectural cm, along with setting the scale.
AutoCAD Units Type
No matter what tools you use, it is critical to set up your units and scales before starting to work on a drawing.
You cannot begin creating reasonable drawings in AutoCAD or Any CAD Software before you are familiar with the scales, units, and commands you use to manipulate scale.
While the most common unit used is decimal, you can set up Autodesk AutoCAD to work with other types of AutoCAD drawing units.
Available Units in AutoCAD
Architectural

Decimal

Engineering

Fractional

Scientific
AutoCAD decimal Unit Type:- A decimal unit can be represented by inch, meter, millimeter, or any other unit.
AutoCAD fractional Units Type:-

The fractional units are the unitless decimal units, displaying values as fractions instead of as decimals.
AutoCAD Engineering Units Type:- Engineering drawings typically use 5-M dimensioning, and tolerance standards dictate decimal inches or millimeters for the metric units.
AutoCAD Architecture Unit Type:- Engineering units are similar to architecture units, but they display feet and inches in decimal format.
AutoCAD scientific Unit Type:- The scientific units are used to show units as decimal values raised to the power of one. Scientific units, which are also unit-free and show values in the form of exponents, are used for drawing things that are very small or very big.
For Example:- The style of the architectural units shows symbols for feet and inches, whereas the decimal units style does not. An architect calculating measurements in feet and inches would have Linear units set to Architectural.
You may also specify if drawings that are entered since you changed units are also rescaled, or, conversely, will retain their dimensions.
You can also specify whether objects you insert from a drawing using a different unit are scaled by units in a new or existing drawing, or retain their original size.
Conclusion
you can choose the desired accuracy and a type of unit. The units are divided into Length, Angle, Insertion Autocad Scale, and Lighting.
To scale objects that you enter in a current drawing from drawings with different drawing units, choose Scale objects entered from other drawings.
To scale by length, you can choose the desired accuracy and the type of units. The units are divided into Length, Angle, Insertion Scale, and Lighting. Today in This post we learned

How Many Units are Available in AutoCAD.
Thanks for your Support.