Solidworks 2022 System Requirements
Let Learn About Solidworks 2022
SolidWorks 2022 is an industry-standard when it comes to creating designs quickly and accurately, including 3D models and 2D drawings of complex parts and assemblies. In this Post, We will talk about Solidworks 2022 System Requirements.
This impressive program has a great capacity to meet the needs of various engineering departments. Designed with an extremely clean and user-friendly interface.
SolidWorks is easy and comfortable to learn and use. It provides the latest tools and features to help you conceptualize, create, validate, communicate, manage, and transform your creative ideas into amazing product designs.
Solidworks 2022 offers the broadest range of tools to solve the most complex problems and the depth to get the job done in detail.
SolidWorks Configuration
SolidWorks 2022 Processor: 3.3 GHz or faster
Operating System: Windows 10/11 64-bit
Memory: 16GB (minimum 8GB)
Hard Drive: Solid State Drive (SSD), maintain at least 25GB of free space
Graphics card: 3GB VRAM or more
Server Products (SOLIDWORKS PDM): Windows Server 2016,2019,2022
Microsoft Excel and Word: 2016, 2019,2021 (To be announced)
Drives: SSD drives are recommended for optimal performance.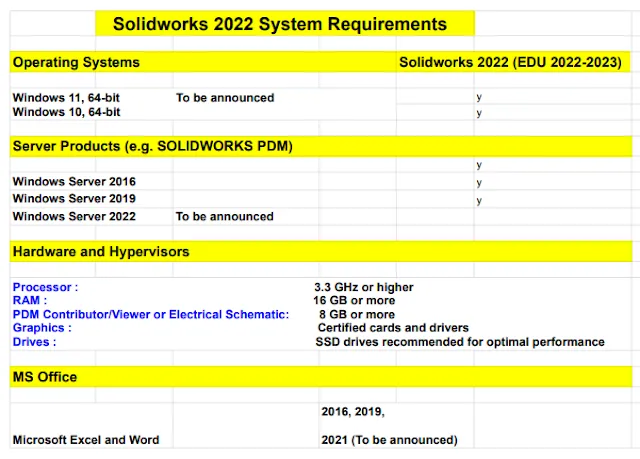 Thanks for your Support.